News Archive
---
The Judas Tree - 4 April 2010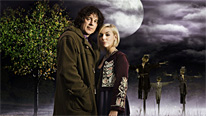 The new one-off special episode of Jonathan Creek, The Judas Tree, will air on BBC1 and BBCHD on Sunday 4 April 2010 at 20:00hrs (22:00hrs for HD broadcast).
BBC press release for The Judas Tree
When a young woman becomes seemingly possessed by the spirit of a Victorian sorceress, illusionist Jonathan Creek and intrepid investigator Joey Ross must fight to prove she is innocent of murder, as the supernatural detective drama returns for a one-off special.
In a lofty old timbered house on the outskirts of London, mystery surrounds the strange death of a former owner, Dr Thadeus Northcote, who, in 1889, fell victim to the supernatural powers of his Egyptian housekeeper and secret lover, the sensuously beautiful Selima Al Sharad. Spurned by her master, she is said to have sealed his fate by correctly predicting the exact time and day he would meet a dreadful, agonising death – apparently without any physical or rational explanation.
More than a hundred years later the house, Green Lanterns, has become home to celebrated crime writer Hugo Dore and his publisher wife, Harriet. But even he has been unable to unlock the riddle of Dr Northcote's death.
And when he rescues sweet young Emily Somerton from her menial job in a shoe shop to assist his ageing housekeeper Mrs Gantry, the malign presence of her Victorian predecessor once again appears to stalk the house...
Gradually, Emily becomes convinced she is losing her mind, as a series of mysterious developments suggest she is no longer in control of her own actions – and that an unearthly force is encouraging her to commit murder...
Perhaps a chance meeting with a likeable young man in a duffel coat will offer an avenue of hope?
After a friendly drink with Jonathan Creek at his London hotel the signs couldn't be more auspicious. But as the two of them look set for a romantic night together, things take an unexpected turn for the worse ... and Emily is once again left feeling alone, confused and threatened.
With events at Green Lanterns beginning to spiral out of control it is down to Joey to repair the relationship between Creek and Emily, and set the scene for a strange investigation that will take them, ultimately, to the site of the eerily isolated Judas Tree ... where the solution to the mystery proves more bizarre and shocking than either of them could have imagined.
Alan Davies plays Jonathan Creek, Sheridan Smith plays Joey Ross, Paul McGann plays Hugo Dore, Sasha Behar plays Harriet Dore, Natalie Walter plays Emily Somerton and Doreen Mantle plays Mrs Gantry.
Jonathan Creek is simulcast on the BBC HD channel – the BBC's High Definition channel, available through Freesat, Sky and Virgin Media.
New Creek for Easter 2010
A new Jonathan Creek will hopefully be filmed this autumn with a view to air at Easter time next year. The 90 minute special, entitled The Judas Tree will again star Sheridan Smith as Joey Ross along side regular Alan Davies. David Renwick will also direct again, having caught the bug with the previous special, The Grinning Man.
No word on the plot of the episode yet, nor on whether this means another series could be in the offing. Watch this space!
New Creek - some plot points now emerging!
Jonathan Creek's latest adventure is going to have a supernatural theme to it. No fine details yet, but be prepared to be frightened! Offering some light relief elsewhere, it seems Joey Ross will be joining Adam Klaus's magic act in some way.
Sheridan Smith to be new Creek girl
The new Christmas special is called "The Grinning Man" and starts filming at the end of June 2008. As expected Julia Sawalha will not be reprising her role as Carla Borrego and nor will Caroline Quentin be returning as Maddy Magellan. Instead Alan Davies will be joined by Sheridan Smith, an actress who is no stranger to the writings of David Renwick having starred in Love Soup with Tasmin Greig.
Sheridan will play Joey Ross a woman described as "fearlessly sceptical" in the BBC press release.
From the BBC press release:-
"When Creek is called in to solve unexplained events in a vast Gothic house, following several disappearances inside a gloomy old attic known as "The Nightmare Room", he is completely baffled.
For 70 years the room has been claiming lives. Could the ghost of a madman who preys upon human flesh really be to blame?
When two young women take shelter there from a raging thunderstorm one night, it's not long before the ominous "presence" has claimed another victim.
Determined to get to the truth about what has happened to her friend, the fearlessly sceptical Joey Ross (Sheridan Smith) finds herself working alongside veteran lateral thinker Jonathan Creek. Together they embark on a complex, often dangerous, investigation into a mystery which only continues to deepen...
Can Jonathan Creek once again shed light on the riddle and render the impossible possible? Or are his once formidable powers of deduction about to be eclipsed by the raw intuition of his younger counterpart?"
From David Renwick himself:
"Plans are moving forward for a 90-minute Christmas special. If all goes well and I get the script together in time we would then shoot it in the summer. After a five year break I think we're all looking forward to getting Creek back on the screen, and the BBC appear to be quite excited, so fingers crossed."
Shooting star charity says thanks
Hi all. Got this from the Shooting Star Charity that benefitted from the money raised by selling Alan's old signed videos of Jonathan Creek episodes:
On behalf of the Shooting Star Children's Hospice I am delighted to acknowledge receipt of the cheque for £212 from the auction of the Jonathan Creek videos. It is very kind of you to arrange this and much appreciated.
The money raised will go towards arts and crafts materials for the children at the Hospice. With no long-term government funding, we rely on voluntary donations to fund the £2.5 million needed each year, (£6,850 per day) to sustain our care services.
Having to look after a child with a life-limiting condition puts an enormous strain on family life. Families can often feel isolated and alone and that is when The Shooting Star Children's Hospice makes such a difference. The Hospice is a very special place, a home from home for families who find themselves in truly unimaginable circumstances. Our care team provide specialist care and support - sharing the smiles on the good days, being there every step of the way through the more difficult times.
Thank you for helping us to make every precious moment count.
Charity reg no: 1047916
Tel: 020 8481 8180
www.shootingstar.org.uk.
Thank you
I just wanted to say a personal thank you to all those who bid on the signed videos that Alan gave me to auction off for charity. Whether you were successful or not, you helped us raise £212 for the Shooting Star Children's Hospice.
Thanks.
Liane.
Caroline Quentin's new show
Caroline Quentin will be filming a new comedy show at the BBC on 24 July 2006 called I do.
The BBC website describes it as:
Alison (played by Caroline Quentin) and Owen McAllister have always had arguments. After twenty-five years of marriage, who doesn't?
Not just normal arguments, mind. These are prolonged bouts of screaming, shouting and sniping. So even though they have a 16-year-old son, it's no surprise that Alison wants a divorce. Trouble is, they run a business together - a wedding planning business.
I Do follows Owen and Alison's attempts to remain enthusiastic about helping people get married, even as they struggle to find a way of coping with each other that doesn't involve chucking heavy kitchen utensils.
If you fancy going to see this show being filmed, visit the BBC website and apply for tickets.
Alan's Charity auction
In association with www.jonathancreek.net we are holding a series of charity autions to raise money for The Shooting Star Children's Hospice.
At a recent QI filming I went to Alan's dressing room (dead posh!) where he kindly gave me some old videos he had of Jonathan Creek episodes. They are the tapes Alan received from the BBC before the show aired on UK television. He has signed them all, and they are still in their original BBC cases. I haven't watched them, so they are in the same condition as Alan gave me.
The final tape is up for auction. You have raised £181.50 so far - so please dig deep and let's see if we can make it £200!
Sesaon 2, Episode 1, Danse Macbre - Sold for £31
Season 2, Episode 2, Time waits for Norman - Sold for £21
Season 2, Episode 3, The Scented Room - Sold for £26
Season 2, Episode 4, The problem at Gallows Gate part I - Sold for £11.50
Season 2, Episode 5, The problem at Gallows Gate part II - Sold for £7.50
Season 2, Episode 6, Mother Red Cap - Sold for £16
Season 4, Episode 1, The Coonskin Cap - Sold for £7.50
Season 4, Episode 2, Angel Hair - Sold for £11.50
Season 4, Episode 3, The Tailor's Dummy - Sold for £13.50
Season 4, Episode 5, The Chequered Box - Sold for £12.50
Season 4, Episode 6, Gorgon's Wood - Sold for £23.50
Christmas Special, Black Canary - Sold for £31
Alan back on the box
Yes Alan is back on telly this week as QI starts on Friday 30 September 2005 on BBC2 at 22:00hrs. As this is series three of the show, all the questions have something to do with the letter C.
Having been to see an episode of this series being filled I know you will be in for a treat!
Alan's second series of the The Brief will also be starting on Friday 7 October on ITV1 at 21:00hrs.
David Renwick's new show is served up
David's new show Love Soup started last night (Tuesday 27 September 2005). It's a funny tale of an English woman (Tamsin Greig) and an American man (Michael Landes) who don't seem to be able to find love. They are so similar you just know, should they ever meet, that they would instantly fall for each other. Do they ever meet though? This is the question!
You can keep up to date with David's new show by visiting the BBCs new website dedicated to the show at www.bbc.co.uk/drama/lovesoup/.
Caroline's new drama
Caroline Quentin will be starring in a new dram called Footprints in the snow. It tells the real-life story of Julie Hill who was paralysed from the waist down after a car accident.
Julie's husband, Kevin Hill, is played by Kevin Whately of Inspector Morse fame.
The two-hour drama will be on shown at 9pm on Sunday 11 September 2005.
This has clearly been one of Caroline's toughest roles to date,
"The whole experience was really hard. It was physically tiring, from shooting the car crash to all the exercises Julie had to do in physio to using the wheelchair, especially as I wanted to get it exactly right. And emotionally it's been a rollercoaster. Julie has to deal with the results of her accident and the negative effect it has on her marriage."
Quote taken from What's on TV, 10 - 16 September 2005, p.14.
Norman Stangerson's house is up for sale!
Keen eyed Alix Hickman has spotted that the house used for Norman Stangerson's abode in Time waits for Norman, one of JC's second season episodes is up for sale. The house has five bedrooms, with three bathrooms and a swimming pool as well as drawing, dining and family rooms. Note, however, the huge clock used in the episode does not come with the house!
And what will this house set you back? It's a steal for a cool £1,295,000 (sterling)
Check out the Gascoigne-Pees website for more details and your chance to own a bit of Jonathan Creek history.
Alan and Bill are new Odd Couple
Alan Davies and Bill Bailey will be taking on the roles made famous by Jack Lemmon and Walter Matthau when they star in the Odd Couple for a run at the Edinburgh Fringe Festival this year. Alan will be playing Felix, and Bill Bailey will be playing Oscar.
Dates: 5 - 29 August 2005 (note, there is no performance on the 15 August)
Venue: The Assembly Hall
Website: For more information about the Fringe festival, visit their website at, http://www.edfringe.com/.
Season 3 and 4 DVD cuts update
It would appear that the season 3 and 4 box set (including the Christmas specials) is the international version of the show. This means footage is cut in order to add adverts for an international market. It's not clear why the BBC have done this.
Fear not however, as the season 1 - 4 box set including Christmas specials has the complete uncut version of the shows. So if you have a choice - go for the full box set!
I have updated the merchandise page with a link to the new complete boxset.
No more JC for a while
David Renwick, the writer of Jonathan Creek is currently working on a new series for the BBC called Love Soup, which is due to start filming in March 2005. This coupled with Alan Davies's limited availability at the moment means new episodes of Jonathan Creek are unlikely. Having said that David has not ruled out the odd special episode in the future.
Jonathan Creek misses out on British Comedy Award
Sadly Jonathan Creek missed out on the award for best comedy drama at the 15th annual British Comedy Awards. Doc Martin starring Martin Clunes went off with the coverted award, much to his surprise!
On the up side, Caroline Quentin won the award for Best Comedy Actress for Von Trapped.
Jonathan Creek up for Award
Jonathan Creek has been nominated for the Best Comedy Drama in this years British Comedy awards. The awards take place on the 22nd December 2004 and will be attended by Alan Davies, Sandy Johnson (director) and David Renwick. The show is up against, Doc Martin and Shameless. The awards are once again presented by Jonathan Ross.
Caroline Quentin has also been nominated in the Best Actress category for her work on Von Trapped.
For more information about the British Comedy Awards, please visit their website at www.britishcomedyawards.co.uk/.
Alan update
The second series of The Brief is due to start filming from the 10th January until 9th April 2005. After which a new series of QI will hopefully be filmed.
QI Xmas special is on BBC2 at 22:25hrs on Boxing Day.
Roman Road, the comedy drama Alan has made with John Gordon-Sinclair goes out on ITV1 on new year's eve at 21:00 hrs GMT.
Season 3 and four including Xmas specials released on DVD
As most of you know by now season three and four of Jonathan Creek have now been released on DVD by the BBC. Unfortunately I have been unable to persuade the BBC to let me run a competition with them for this boxset, which includes the Christmas specials, Black Canary and Satan's Chimney.
However Paul Bines has brought it to my attention that Kelloggs are running a BBC promotion for DVDs, of which Jonathan Creek is one. You can get a free DVD of one episode of Jonathan Creek - season 2's Time Waits for Norman we believe. So if you are feeling peckish whilst watching Jonathan Creek tuck into some cornflakes!
Alan Davies is a busy man!
JonathanCreek may have finished for the moment, but Alan Davies does not rest! He has a full calendar of work ahead building on successful shows he's starred in and branching out to do new ones.
In August Alan will be recording a radio play called "About A Dog" written by Graeme Garden. He will be playing the dog, Jack. It will be recording from 23 - 25 August 2004, but sadly not in front of a live audience. It should be broadcast in the Autumn this year.
After this Alan is off for a six week shoot to record "Roman Road" a one off 90 minute drama for ITV. He will star along side John Gordon Sinclair as two blokes who walk the Roman Road from Chichester to London. Alan's character is hotly pursued all the way! The drama was written by Kirkam Jackson and will be produced by Zenith productions, under the direction of Paul Seed. Not sure when this one is due to air yet.
In the autumn a second series of QI, in which Alan is the only regular panelist for the "Quite Interesting" game show hosted by Stephen Fry, will air. Interstingly enough the Christmas special was recorded back in March this year!
Come November Alan will be filming season two of "The Brief". There will be four episodes this time round and should finish filming in the new year.
As if this wasn't enough, Alan finds time to write a fortnightly column, "The Game" in the pull-out section of the Times newspaper on Mondays.
Alan Davies new series
Alan Davaies is currently doing the chat show round to promote his new series "The Brief".
Carlton are pitching "The Brief" like so:
Alan Davies (Bob & Rose) stars as Henry Farmer, a criminal barrister engaged in an ongoing fight for justice in the courtroom. Henry's life is dominated by chaos and he is left with a huge workload, debt and alimony payments to meet.and all this while he is in love with the wife of a prominent politician who won't leave her husband for him! The Brief is an engaging blend of courtroom drama, suspense, intrigue and humour. Created by Ted Childs (Inspector Morse).
There will be four 90 minute episodes.
Alan Davies will be on telly tonight 16 April on the Jonathan Ross show at 22:35 hrs GMT BBC1.
Win Jonathan Creek on DVD with the Radio Times
The Radio Times is currently running a survey, and if you complete the survey you'll be entered into a prize draw to win the Jonathan Creek DVD season one and two boxset.
Competition winner announced
Today was the prize draw for the Jonathan Creek DVD competition, in association with the BBC Shop.
I'm please to announce that Kristopher Bramwell has won the Season one and two DVD. Congratulations Kristopher, your DVDs will be sent to as soon as I can get to a post office!
Fear not if you didn't win this competition. Rumour has it that Season three and four will be released on DVD later this year. The BBC Shop has kindly agreed to let me have a copy of this DVD so I can run another competition! So if you weren't lucky this time - hopefully you'll be lucky next time.
Competition time!
In association with BBC Worldwide I am able to bring you a competition to win a copy of the recently released Jonathan Creek season 1 & 2 boxset on DVD.
To win this fantastic prize all you have to do is answer this simple question:
Where does Jonathan live?
A - In a house
B - In a windmill
C - In a rather swanky posh flat in London
Closing date for entries is the 31 March 2004, postal entries received after this date will not go into the draw. A winner will be picked at random and sent the prize in the post to the address given in your entry. Please ensure the address given above is correct. Only one entry per person - duplicate entries will be deleted.
New BBC web site for Jonathan Creek
The BBC has launched a Jonathan Creek website in its "cult" TV area.
There are quizzes, message boards for you to talk to other fans of the show and even clips from the show including deleted scenes!
Well worth a vist
www.bbc.co.uk/cult/jonathancreek
Season Four update
I have now at last got information on the final three episodes of season four. The Episode Guide pages have been updated with the basic plots for each episode, but no word yet on which guest stars will be in them.
The BBC has on it's website a press release for it's Winter schedule for 2004 and Jonathan Creek is on it! Latest I hear is that the first of the remaining three episode will air on the 14 February 2004, probably in it's usual time slot around 21:00hrs.
More DVD news
Rumour has it the DVD box set will be released on the 16th February and will comprise the first two seasons. In August seasons three and four will hopefully be released. No word yet on when the Christmas specials will be available on DVD.
The BBC shop once again has the DVD listed and you can pre-order the DVD with them. Visit the BBC shop. Amazon.co.uk also have the DVD listed as being released on the 16th February, and also include a list of extras:

Long Hair and Duffel Coat - exclusive documentary (24 mins)
Director and Producer Commentary
Screen Tests with Alan Davies and Caroline Quentin
Having said all this you will note that the image of the DVD box set shown on both the BBC site and the Amazon.co.uk still looks like it has three seasons in it.
Jonathan Creek book re-released?
Keen observers may have noticed that the World of Jonathan Creek book as shown on the Amazon.co.uk website seems to have a new front cover. This new cover also boasts the new title "The Mysterious World of Jonathan Creek".
From what I can tell there is nothing new as the publisher date is still given as 1999. So if you already have a copy I wouldn't rush out to buy this version.
Last three episodes of season four update
Editing on the final three episodes of season four is currently underway and it's hoped that the first of these, The Seer of the Sands will be aired around Christmas 2003 with the last two, The Chequered Box and Gorgons Wood being shown early in the new year.
Adrain Edmonson returns as Carla's husband, Brendan. Other notable guest stars are Celia Imrie, Alice Patten and Bamber Gasgoine. Sandy Jonson is again directing.
No plot info is available at present, but as soon as I know more - I'll let you know!
DVD News
At last we may have some news on the DVD release of Jonathan Creek. I have word that the first two series will be released on four seperate discs. A boxed set version may also be available. It's hoped this will be released around Spring of 2004.
Season Four Starts in March
Yes, many of you have noticed the adverts on BBC1. The new season of Jonathan Creek is due to start on Saturday 1 March 2003 at 21:05 hours GMT.
The BBC has posted the following on their listings on the web:
Season 4, Episode 1 - The Coonskin Cap
"New series. Creek and Carla investigate the case of a police woman who has been impossibly strangled to death inside an empty gymnasium.
Two young women have been murdered in almost identical circumstances, and fears are growing that the killer, who throttles his victims with a thin length of steel wire, will strike again. The only clue to his identity is the macabre shadow of a man seen lurking near the scene of the murders... a man who according to eye witnesses was wearing a Davy Crockett hat.
Brendan Baxter, the producer of a thrusting new "true crime" series called Eyes and Ears, is quick to recruit the specialist skills of Jonathan Creek to accelerate the inquiry. But when Creek discovers the show's new presenter is his old sparring partner Carla Borrego events take an awkward turn.
Grudgingly accepting the challenge, Creek is not impressed by the tabloid antics of a TV show whose motives are in his view mercenary and voyeuristic. And from the outset he begins to suspect that the killer in the coonskin cap may not be all that he at first appears.
And as the mystery deepens, the macabre image of Eduard Munch's expressionist painting The Scream unexpectedly turns out to be a key turning point in his deductions."
More News on Season 4
The BBC have released more info on the new series of Jonathan Creek which is billed as part of their Winter 2003 season.
Adrian Edmondson - better known as Vivian in The Young Ones - is to play Carla Borrego's husband Brendan Baxter. Brendan is an over ambitious TV producer.
As for details about the episodes? The following is taken from the BBC press release:
"In one film, a serial killer is on the loose. When the police attempt to reconstruct the crime, a young policewoman is shot at by an invisible perpetrator, and Creek's powers of detection are put to test on national TV.
In another film, a pop star's marriage to her song-writer husband (Jack Dee) is threatened by a ransom demand - but how can the kidnapping be filmed before the victim is captured?
And in another mystery, a legendary fashion designer is driven to suicide by a damning newspaper article. Creek and Carla are called in to investigate the subsequent attack on its author - made by a man who appears to be able to change his appearance in a split second."
New episodes of Jonathan Creek in 2003
News of the next season of Jonathan Creek is now becoming available. It's more than likely the series will be six episodes, shown in two blocks of three episodes each. The first block is due to be delivered to the BBC around February 2003 for a hopefully March/April 2003 broadcast.
Caroline Quentin was asked if she would like to reprise her role as Maddy, but declined. Instead, Julia Sawalha will return as Carla Borrego. The first 3 episodes will also star Adrian Edmondson as a regular character. The guest cast is once again strong and includes Maureen Lipman, Sophie Thompson, Tamsin Greig and Jack Dee.
All 3 episodes are directed by Christine Gernon who has done also directed One Foot in the Grave and Absolutely Fabulous.
It's hoped that the next 3 episodes will be shot in the summer of 2003.
Alan comes to the West End
In August this year Alan trod the board at the Edinburgh Festival in a played called "Auntie & Me" written by X-files regular Morris Panych. Originally called Vigil in Panych's native Canada, Auntie & Me, is an award winning play about a man visiting the death bed of his estranged aunt - but she won't die. It's an absurd, tender and very, very funny play complete with surprise plot twists and terrible weather. Alan's co-star will be Margaret Tyzack.
The West End run starts on the 10 January 2003 at the Wyndham's Theatre.
Update on Season 4
The latest news I have from David Renwick is as follows:
"Latest news on a fourth series is that I have just begun writing another six, but we may make and then transmit them in two blocks of three, which means the first batch would go out early next year.It is now looking unlikely that Maddy will return, but, hopefully, that Julia Sawalha will reprise her role as Carla."
Satan's Chimney has broadcast date
The Christmas Special has at last been given a broadcast date in the UK of Boxing Day, 26th December 2001 on BBC1 at 21:05 hours GMT. The show will last for 2 hours and revolves around an actress, Vivian Brodie (played by Mary Tamm) who is killed. Julia Sawalha, plays Carla Borrego, Vivian's agent. Carla teams up with Jonathan when Vivian is shot through the heart, but the window she was standing by at the time remains unbroken. How can someone shot through glass without breaking it?
There's also a possible change of employer for Jonathan as he tries for a job with Alan Kalanak, a Las Vegas escape artist.
Rumours of Alan leaving JC are not true!
Rumours have been around suggesting Alan Davies is to leave Jonathan Creek after the X-mas special. I asked the man himself if such rumours were true, and the answer is absolutely not!
"Gossip's a funny thing, I've been out of the country for the last month so it can't have come from me! No, there's no truth in that rumour at all, though it's unlikely Caroline will be doing anymore," he said.
No more JC until 2003..?
David Renwick has been asked for another full season of Jonathan Creek, but it is unlikely to reach our screens until around 2003.
Satan's Chimney Update
I was waiting until I got confirmation from the horses mouth, but many of you have seen the report in yesterday's Daily Mirror. Julia Sawalha will play Carla Borrego, the new feisty female character set to partner Jonathan in "Satan's Chimney", the new two-hour special. Rehearsals began on the 3rd September, and filming will commence on 10 September for six weeks. Filming is going to take place in such diverse locations as, Scotland, Cumbria, the South-east and Pinewood Studios.
Alan's new show is shown on ITV
Bob & Rose, Alan's new six part series will start broadcasting on ITV on 10 September 2001. For more info about the series, please see the previous news entry.
No Maddy for new Christmas Special
It as now been confirmed that Caroline Quentin will not be reprising the role of Maddy Magellan for the forthcoming Christmas special. Caroline has expressed a wish to concentrate on her family for the moment. Fear not though for Alan Davies is still going to play Jonathan Creek.
Instead Jonathan will have a new sidekick in the form of Carla Borrego. David Renwick describes Carla as, "Softer, still quite spiky but a tad more vulnerable". No news on who will play Carla (as casting is not yet underway), but news on the episode itself is now filtering through. The special is entitled Satan's Chimney, and will now possibly be two hour-long episodes shown over two nights rather than a 90 minute one-off special. Pre-production is due to begin officially in mid-June. Verity Lambert will produce it, with Sandy Johnson once again directing.
Alan's New Show
Alan is currently filming a new series for ITV called Bob & Rose. Alan plays Bob, a gay man who falls in love with a woman! Rose is played by Lesley Sharp. Jessica Stephenson, better known for co-writing and starring in Spaced also stars in the show as Bob's best friend, Holly. It's written by Russell T. Davies, who also wrote Queer as Folk
The show is made by Red Productions, who have made Clocking Off and the acclaimed series Queer as Folk.
Filming of the six, one-hour long episodes is due to finish on the 17th June, and hopes are high for an autumn broadcast date.
Alan is also currently "agentless" after parting company with International Artistes.
Season Three repeats on the BBC
Starting on Saturday 6 January 2001, the BBC are repeating season three of Jonathan Creek on BBC1 at 21:00 hrs GMT, starting with "The Curious Tale of Mr Spearfish". Don't forget to set your videos!
Caroline gets serious
Caroline Quentin takes on her first serious drama role playing the wife of a man accused of raping her best friend in the new drama "The Innocent" to be shown on ITV on Sunday 7 January 2001 at 21:10 hrs GMT. The two-part drama also stars Paul Rhys as her husband and Clare Holman as her best friend.
A Many Splintered Thing repeats
Alan Davies's new comedy-drama "A Many Splintered Thing" is being repeated on UK Gold, starting from Thursday 11 January 2001 at 22:55 hrs GMT. The series has not been re-commissioned for a second series, so catch this show if you can!
Season Four News
News about season four is slowly filtering through now, and the latest is that we will not be getting a full season. The decision has been made to make another 90 minute special rather than a six-episode season. No news about the plot of this special is available at the moment, but watch this space!
Find out more about Caroline Quentin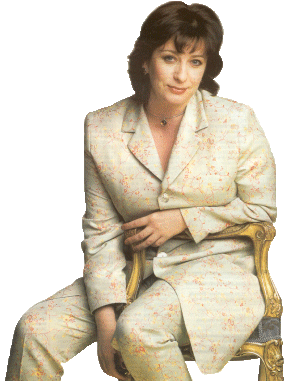 Ever wanted to know what Caroline Quentin is like in real life when she's not playing the long suffering Dorothy in Men Behaving Badly or Maddy in Jonathan Creek? Well here's your chance. Caroline is profiled in the Best of British series currently showing on BBC1 next Tuesday 14 November 2000 at 22:35hrs GMT.
The 45 minute show will include interviews with Caroline's co-stars as well and friends and family.
It's no surprise to see Caroline honoured in the Best of British Series. You can also see more of Caroline Quentin when her new series of Kiss Me Kate starts on Saturday 18 November 2000 at 21:30hrs GMT.
Jonathan Creek up for a National Television Award...possibly!
Yep, it's that time of year again, the National Television Award are currently being voted for, via the TV Times. These are the awards that are voted for by the viewing public and so mean more to those who win them than some industry awards.
The good news is that Jonathan Creek is on the voting list (out of 32 possible programmes!) for Most Popular Drama. The voting is open until 28 July 2000, so you need to get in quickly! The actual award ceremony won't take place until 10 October 2000 at the Royal Albert Hall in London. To vote all you need to do is pick up a copy of the new TV Times (8 - 14 July 2000), and use the voting form provided inside.
There are a limited number of tickets available for the ceremony. For details called the Royal Albert Ticket shop on 020 7589 8212.
American Broadcast of season three
For those of you in America desperately waiting to see season three of Jonathan Creek, there is good news for you! Laurie Davis has e-mailed me to let me know that BBC America will be showing season three starting on Sunday 9 July 2000 at 20:00 ET. So don't forget to set your videos!
Alan's upcoming TV appearances
Alan will be on "This Morning" on Monday 19 June ,"The Priory" on Tuesday 20 June and, "TFI Friday" on Friday 23 June, all to help promote his new documentary series "Stand up with Alan Davies".
Stand-up with Alan Davies
Stand-up with Alan Davies, is a new three-part documentary series which Alan filmed last year whilst on tour. He interviews 12 other famous comedians about what drives them to make people laugh. The series starts on Monday 19 June, at 22:40 on BBC1.
A Many Splintered Thing starts in June
A Many Splintered Thing, Alan's latest six-part comedy series starts on Tuesday 27 June on BBC1 at 22:20. Based on the pilot shown in December 1998, the series was commissioned for a series and was filmed earlier in the year.
Curly locks cut short
Alan has recently been seen sporting a new look. The hair style which has made him a household name has been cut for a film role he's doing. The film is called "Dog eat Dog". Alan says his hair still gets the, "full Jackson five effects after washing it". Alan has a cameo in the film as do Melanie Blatt and Gary Kemp. The main lead is Mark Tonderai who co-wrote the script with the director of the film, Moody Shoabi. The film is being made by Tiger Aspect for FilmFour.
Jonathan Creek film?
Rumours have been circulating on the Fan forum of this site about a film based on Jonathan Creek being made. Having spoken to David Renwick, he told me, "...Rumours about a JC movie are totally without foundation."
Jonathan Creek repeats over Easter
The BBC are repeating the episode Black Canary, on Sunday 16 April 2000 on BBC1 at 21:00 (9pm). For those of you who have missed it and don't have UK Gold, don't forget to set your videos! UK Gold are also repeating Black Canary only a few days later on Sunday 23 April at 21:05 and again on the 24 April at 00:55 in the morning, and on the 28 April at 22:45.
Competition winners announced - at last!
Apologies for the delay in getting the competition sorted! I now have the prizes and I can announce the winners and give you the answers to the question posed, which was:-
What do The Young Ones and Jonathan Creek have in common?
The answer I was looking for was:-
Rik Mayall and Nigel Planer
Rik Mayall played Inspector Gideon Pryke in "Black Canary" and Nigel Planer played Shelford in "The Reconstituted Corpse"
Note that while Griff Rhys-Jones has also appeared in both series, I did not include him as this competition was set before season three had aired. Entries including Griff were included in the draw.
As with the last competition my good friend Jayne Cosnett picked the winners for me to ensure no cheating went on! Congratulations to the winners who are:-
1st Prize Winner (boxset of videos + book) - Nichola Cattini from Cheshire
2nd Prize Winner (3 videos + book) - Gino Marcangelo from Bucks
I hope to have the prizes with you by the end of January - as soon as I have found a suitable box to send them in!
Season Three air date announced for UK broadcast
Yes at last the new season of Jonathan Creek has been given an air date! It will start on Saturday 27 November 1999 on BBC1. It will be shown after Casualty at 20:55 GMT, so get those videos ready! It will also be repeated on Wednesdays from the 1 December for those of you with access to digital TV on BBC Choice.
Video and Book Competition!
(Competition is now closed)
Yes, those lovely people at BBC Worldwide have let me have a couple of copies of the book and videos to give away in another competition. As the prizes are so good the question is a bit harder than the last one, and only FULL answers will be excepted (Hint: Lots people have only sent in half the answer!). As before this competition is run in conjunction with the Jonathan Creek Fanzine. I can now confirm that the copies have been signed by Caroline Quentin and Alan Davies, so get those entries in!
Prizes are as follows: -
First Prize - One boxset of videos plus one copy of the Jonathan Creek book

Pictures courtesy of BBC Worldwide


Second Prize - One set of three videos plus one copy of the Jonathan Creek book

Pictures courtesy of BBC Worldwide
So, what do you have to do in order to win these brilliant prizes? Simple, answer the following question:-
What do The Young Ones and Jonathan Creek have in common?
Please send your answers either by e-mailing me on liane@jonathancreek.net, remembering to include your name and address so I know where to send the prizes to if you win. Alternatively you can post your entries to:-

Only one entry per person will be accepted. All entries to be in by the end of the 17 December 1999. A winner will be picked at random and notified by e-mail or post. Please note there may be a delay in getting the prizes to the winner, due to the increase in the post at Christmas.
Caroline Quentin gives birth to healthy baby girl
Newspapers across the country have reported that Caroline Quentin gave birth to a healthy baby girl, Emily Rose on Saturday 4 September 1999. She gave birth in London's Portland Hospital.
By all accounts, both mother and baby are doing fine. Congratulations to both Caroline and Sam.
Winner of Black Canary Script Competition Announced
Yes all the entries are in, and a winner has been picked by my good friend Jayne Cosnett (So there's was no cheating - promise!). Thanks to all of you who entered, and sorry if you didn't win, but hopefully there will be another competition coming soon, so fear not, you may win next time.
The winner of the Black Canary script as signed by David Renwick himself is Stacy Brown from Merrimack, USA. Congratulations! Your script will be on it's way soon (just as soon as I find a suitable envelope!)
Jonathan Creek on UK Gold
Jonathan Creek is once again being repeated on UK Gold. Sadly you've missed the first episode which was shown last Friday (27 August 1999), but the first season continues this Friday at 22:20 GMT with Jack in the Box.
Alan's new Stand Up Tour Dates Announced
Alan's new stand up tour dates have now been released and are as follows. Please phone the theatres to find out ticket prices and times. Thanks to Louise Beattie for letting me know this!
Date
Theatre
Phone Number
NOVEMBER
Fri 19
Salisbury - City Hall
01722 327676
Sat 20th
Wimbledon Theatre
0181 540 0362
Sun 21st
Kidderminster - Glades Arena
01562 820082
Mon 22nd
Derby - Assembly Rooms
01332 255800
Thur 25th
Poole - Arts Centre
01202 685222
Fri 26th
Broxbourne - Civic Hall
01992 441946
Sun 28th
Felixstowe - Spa Pavillion
01394 282126
Tue 30th
Stoke on Trent - The Royal
01782 207777
DECEMBER
Thurs 2nd
St Albans - The Arena
01727 84448
Fri 3rd
Tunbridge Wells - Assembly Halls
01892 530613
Sat 4th
Croydon - Fairfields Hall
0181 688 9291
Sun 5th
Guildford - Civic Theatre
01483 444555
Video/book Release News
We've heard lots of rumours about release dates for the videos of season one, plus the book. I will now share with you the contents of a letter I got from BBC Worldwide.
There will indeed be three videos plus a box set which will all have a release date of 15 November 1999. All the single tapes will cost £12.99 and the box set (containing all three tapes) will be £29.99.

Images of the video covers courtesy of BBC Worldwide
The book release date is still a little vague, in that the date given is "October". However this still pins it down to late this year! It will be 128 pages long packed full of interesting stuff (see Previous News for more info about the contents of the book).

Images of the Boxset and Book courtesy of BBC Worldwide
Sadly there is bad news for those of you who live outside the UK. Word has reached me that the BBC will not be releasing the videos outside the UK. I don't know why, only that it won't be done. You'll have to write to BBC Viewer and Listener Correspondence to find out more.
Those nice people at BBC Worldwide will also be giving the Jonathan Creek Homepage/Jonathan Creek Fanzine some copies to give away in a competition later in the year. So keep your eyes peeled!
Competition Time!
In conjunction with the Jonathan Creek Fanzine it's my pleasure to announce the first Jonathan Creek Homepage competition. The prize is a complete script of the 1998 Christmas Special episode Black Canary that has been signed by David Renwick himself. To win this much coveted prize, all you have to do is answer this simple question:-
Name the two actors who have played Adam Klaus
Send in your entry by filling in the form below. Closing date for entries is 31 August 1999, and only one entry per person will be accepted. One winner will be drawn at random on the 1 September and notified either by e-mail or by post (snail mail). If you'd rather send your entry in by post, please send them on a postcard with your name and address, plus the answers, to:-
Black Canary Script Competition
c/o The Jonathan Creek Fanzine
36 Farnborough Road
Hampshire, GU14 6BB
United Kingdom
Season Three News
Although not much is known about the third season, David Renwick has told me a few snippets! Filming of the first batch of three episodes is still underway, and Keith Washington, a regular director of Jonathan Creek, is directing them. Richard Holthouse will take over for the second batch in early-mid July. Locations have included Beaconsfield, Hemel Hempstead and areas around the south west of London as well as some spooky disused tunnels near Spitafields!
The guest cast is also shaping up nicely, although there are no signs of an ex-Doctor Who yet! I don't know anything about their characters yet, but Griff Rhys-Jones one of the UK prominent comedians is in an episode. Michael Brandon will also be making an appearance as well as Rebecca Front. Michael is well known for his role of Lt. James Dempsey in the hit eighties series Dempsey and Makepeace. And Rebecca Front has been on such shows as Absolutely Fabulous, Knowing Me, Knowing You, and Today's the Day.
More Book News!
Steve Clark has almost finished writing the book which has a tentative release date of October/Novemeber this year and a possible price of £9.99 (sterling). The book will be called The World of Jonathan Creek and looks like it will include some very interesting stuff, such as:
David Renwick's career and inspiration for Jonathan Creek
A look at Jonathan Creek and Maddy Magellan
A look at Alan Davies and Caroline Quentin
An episode guide, including season three
A behind the scenes section
A new mystery which you are invited to solve
Video Release Update
I've had more information from the BBC Video press office! Previous dates for the release quoted may have been premature, as the videos will be released to coincide with the showing of season three. As no date is yet know for the broadcast of season three in the UK, they can't give a definite date besides "autumn".
However I can now tell you what the three tapes will have on them:-

Volume 1 (The Wrestler's Tomb & Jack In The Box) - £12.99
Volume 2 (The Reconstituted Corpse, No Trace of Tracy & The House of Monkeys) - £12.99
Volume 3 (Black Canary) - £12.99
There will also be a boxset available in a slipcase costing £24.99.
Black Canary is being released before season two due to the amount of interest shown in the episode. If the sales of the videos go well we can expect the release of season two next year. Sadly I still don't have a date for release outside the UK, or even confirmation that it will be released outside the UK! As soon as I do, I'll let you know!
Jonathan Creek Book Update
The Jonathan Creek book now has a title! It will be called, The Mysterious World Of Jonathan Creek, and has a tentative price of £9.99, which has yet to be confirmed. Again the release date will be in the autumn to coincide with season three first broadcast in the UK.
Video Release Dates confirmed from BBC
I wrote to the BBC to confirm the dates given in TV Zone as I mentioned in the last Latest News update. Below is the reply I got from them. The date is slightly later than TV Zone gave, but what the hay, we finally have a date!
Series One is due to become available on video 4th October. There will be on 2 videos, with 3 episodes on each video costing £14.99. The first is BBCV6823 and the second BBCV6824.
Seeing as season one only had five episodes, I'm assuming that the feature length first episode may be treated as a two-parter. It was split into two episodes for broadcast outside the UK. I have written back to the BBC asking for a release date of the videos outside the UK and am waiting for their reply. I'll let you know as soo as I know do!
Jonathan Creek video release sooner than expected?
Avid readers of TV Zone will have spotted a small but very pleasing paragraph on page nine of the latest issue (#115 - June 1999). It says:-
"Volumes 1 to 3 of Jonathan Creek plus a box set will be issued by BBC video on 6th September 1999"
At the moment I assume this means a UK release only. I don't have a date for release outside the UK, sorry!
Caroline Quentin is Pregnant
As was revealed at the BAFTA awards, Caroline Quentin is expecting her first child. The Daily Mirror has the following quote from her agent:-
"Caroline Quentin is delighted to confirm she is expecting a baby in the autumn with her partner Sam Farmer. She is currently filming the third series of Jonathan Creek for the BBC and is not available for comment.".
Sam is said to be "delighted" at the prospect of becoming a father.
Whether the pregnancy will affect the filming of the third season is not known.
BAFTA Award Results
Jonathan Creek was nominated for the Best Drama Series, but sadly missed out on the award which instead went to The Cops.
However all was not lost, David Renwick was presented with the Dennis Potter Award. It's an award given to a talented writer for their outstanding contribution to television. David seemed surprised, but accepted the award, presented by veteran comedian Ronnie Corbett with a smile on his face. David has written over 50 of Ronnie's famous story jokes which he delivered in a Mastermind style chair, as well as numerous radio and television shows.
David thanked four producers which have all had a great effect on his career, Verity Lambert, David Hatch, Humphrey Barclay and Susan Belbin. He also thanked his parents and his wife, Ellie as well as Andrew Marshall his old writing partner of seventeen years.
Although neither Alan Davies or Caroline Quentin were nominated for awards, Alan Davies did present the award for Best Comedy Programme or series which went to the much loved show, Father Ted.
Caroline Quentin also made a brief appearance in a clip from Who's Line is it Anyway? made by Hat Trick Productions.
Jonathan Creek Nominated for BAFTA - again!
Jonathan Creek has once again been nominated for a British Academy of Film and Television Arts (BAFTA) award in the Best Drama Series category. Competition isn't that strong, the other nominees being The Cops, Playing the Field and Undercover Heart, so it should be a sure winner once again. The nominees were announced on Monday 19 April, and the ceremony will take place on Sunday the 9th May 1999 at London's Grosvenor House Hotel, Park Lane.
Both Alan Davies and Caroline Quentin have failed to be nominated in the best actor and actress categories.
Jonathan Creek Season One and Two repeats
Jonathan Creek is to be repeated in April on both BBC1 and UK Gold! Yes for those of you who have missed episodes, or simply haven't seen the series before, now's your chance to catch up with the rest of us!
The BBC will start season two repeats, beginning with Danse Macabre on Saturday 10 April at 21:05.
UK Gold on the other hand will begin season one repeats, beginning with The Wrestler's Tomb on Tuesday 13 April 1999. Alas I'm not sure of the time, but I suspect it will be at 21:40 as it will be replacing Crime Traveller which finishes it's run on 6th April.